Routine annuals and wellness exams
Keeping your pet on a routine schedule with yearly vaccines, physical exams, and flea and tick prevention / heartworm prevention year round is the best way to be on top of your pets health.
Without being seen regularly little things that mean a lot can go missed.
We see oral disease every day in general practice. Eighty percent of dogs and cats have significant periodontal disease by three years of age. Bright red gums, tartar, halitosis (bad breath), sensitivity when eating and drinking, weight loss and a change in disposition are all symptoms of oral disease.
Smaller breeds (Chihuahuas, Poodles, Shih Tzu's, etc.) tend to accumulate more tartar then larger breeds of dogs. Many of the "age-related" diseases can be directly tied to poor oral health, particularly, heart disease and kidney disease. Many scientific studies show animals with regular oral health care live 2-3 years longer than those without proper preventative care. It is NOT true that cats and dogs have cleaner mouths than humans.

---
The dog in the picture below a is suffering from severe dental calculus and periodontal disease. Difficulty chewing, pain, bleeding gums, and halitosis are just a few of the problems affecting this dog. Damage to the heart, kidneys and liver are the silent issues with poor dental health. Ask our staff if you have any questions about dental disease in your pet.)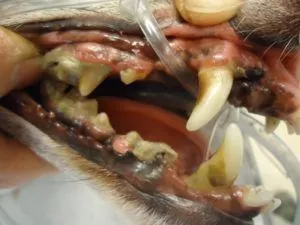 While it can be difficult and messy to provide your pet with regular brushing, there are beneficial products that are specifically designed for dogs and cats that dramatically improve oral health. These products include dental chews, oral rinses, and water additives.
Good oral care will SAVE YOU MONEY in future medical problems that could affect your beloved pet!
(Below is an example of the benefit of a dental cleaning!)
We provide a full range of oral health care products in the office. Additionally, we offer complete dental care including routine cleanings, oral surgery, dental radiography, sealants and orthodontics. If you have any questions, or would like a free dental evaluation, please stop by or call to make an appointment!
In the image below the dog had presented for a second opinion for not eating and vomiting for 3 days. He was in good physical condition and there were no abnormalities found on his exam or bloodwork. We suspected a tooth problem despite no swelling or tooth issues on visual exam. Upon X-Rays of his teeth, we found that the 3rd Pre-Molar on the left upper arcade had been fractured from its 2 roots. He was given anesthesia and Dr. Keith removed the crown and the two broken roots. After healing he should do very well! The lesson here is that teeth can be difficult to access without X-Rays and and a full oral exam under sedation or anesthesia.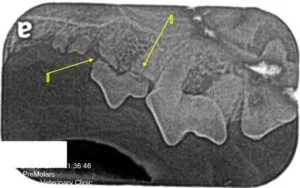 Best to Brush
Daily tooth brushing is the best at-home method of ensuring your pet will enjoy good dental health. It's easy, quick, and can be fun for both you and your pet.